WORLDWIDE SINGLES / EP'S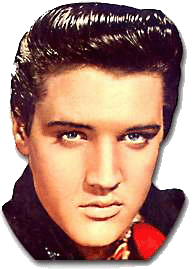 POOR Pretty beat.
GOOD Used but not terribly beat. The + and - just gives degrees
VG Shiny vinyl but with scuffs, etc. As it gets to VG 9 it gets almost to......
VG + Very shiny and not a lot of scuffs but definitely not MINT -
MINT I hate to call anything MINT because it is very very impossible in my opinion to find anything truly MINT or NEW no matter if the record / cvr came out today!!

UNITED STATES
SINGLES
DOT - BLACK RCA VICTOR DOG AT TOP LBL.
LINES - BLACK RCA VICTOR DOG AT TOP LBL WITH HORIZONTAL LINE.
47-6420 HEARTBREAK HOTEL / WAS ONE. NO LINES. VG+. $35
47-6636 BLUE SUEDE SHOES / TUTTI FRUTTI. DOT. NO LINES. VG -WITH STKR ON ONE SIDE. $30
47-6636 BLUE SUEDE SHOES / TUTTI FRUTTI. DOT. NO LINES. POOR. $15
47-6643 LOVE ME TENDER / ANY WAY YOU WANT ME. DOT. GREEN COVER. DOT. VG 5 / VG +++. $100
47-6643 LOVE ME TENDER / ANY WAY YOU WANT ME. DARK PINK CVR ONLY. VG 9. $30
47-6870 ALL SHOOK UP / THAT'S WHEN YOUR HEARTACHES BEGIN. DOT. RECORD ONLY. POOR. $2
47-7000 LOVING YOU / TEDDY BEAR. DOT. RECORD ONLY. VG. $6
47-8307 KISSIN' COUSINS / IT HURTS ME. DOT. RECORD ONLY. VG. $8
47-9791 KENTUCKY TAIN / LITTLE FRIEND. ORANGE. MINT - / MINT -. $30
74-0815 SEPARATE WAYS / ALWAYS ON MY MIND. ORANGE. MINT - / MINT -. $30
APBO 0088 RAISED ON ROCK / FOR OL' TIMES SAKE. ORANGE. MINT - / MINT -. $30
APBO 0196 TAKE GOOD CARE OF HER / I'VE GOT A THING ABOUT YOU BABY. ORANGE. MINT - / MINT - (NOW AVAILABLE). $40
APBO 0280 IF YOU TALK IN YOUR SLEEP / HELP ME. ORANGE. MINT - / MINT -. $40
PB 10074 IT'S MIDNIGHT / PROMISED LAND. GRAY LBL. MINT - / MINT -. $ 40
PB 10191 MY BOY / THINKING ABOUT YOU. RARE TAN LBL. MINT - / MINT -. $60
PB 10278 T-R-O-U-B-L-E / MR SONGMAN ORANGE. MINT - / MINT -. $50.
PB 10278 T-R-O-U-B-L-E / MR SONGMAN TAN. MINT - / MINT -. $40.
PB 10401 BRINGING IT BACK /PIECES OF MY LIFE. TAN. MINT - / MINT -. $35
PB 10601 HURT / FOR THE HEART. TAN. MINT - / MINT -. $40
PB 10857 MOODY BLUE / SHE THINKS I STILL CARE. NEW BLACK. MINT - / MINT -. $30
PB 10998 WAY DOWN / PLEDGING MY LOVE. NEW BLACK. MINT - / MINT -. $30
PB 11099-11113 COLLECTORS SERIES OF 15 SINGLES WITH PIC COVERS. NEW BLACK LBL. $30
PB 11165 MY WAY / AMERICA. NEW BLACK. MINT - (AMERICA ON LBL AND COVER )/ MINT -. $15
PB 11165 MY WAY / AMERICA. NEW BLACK. RECORD ONLY. MINT - ("AMERICA THE BEAUTIFUL"). $30
PB 11212 UNCHAINED MELODY / SOFTLY, AS I LEAVE YOU. NEW BLACK. MINT - / MINT - $15
PB 11320 TEDDY BEAR / PUPPET ON A STRING. NEW BLACK. MINT - / VG 9.. $10
447-0647 BLUE CHRISTMAS / SANTA CLAUS IS BACK. NEW BLACK. MINT - / MINT -. $15
PB 11533 ARE YOU SINCERE / SOLITAIRE. NEW BLACK. MINT - / MINT -. $15
PB 11679 GOT A FEELIN / HONKY TONK. NEW BLACK. MINT - / MINT -. $15
PB 12158 GUITAR MAN / FADED LOVE. NEW BLACK. MINT - / MINT -. WITH TWO JUKE BOX TITLE STRIPS INCLUDED! $30
PB 12158 GUITAR MAN / FADED LOVE. NEW BLACK. MINT - / MINT -. $15
PB 12205 FADED LOVE / YOU ASKED ME TO. RECORD ONLY! NO PIC CVR ISSUED! MINT - / MINT -. $40
PB 13058 YOU'LL NEVER WALK / THERE GOES. NEW BLACK. MINT - / MINT -. $15
PB 13351 THE ELVIS MEDLEY / ALWAYS ON MY MIND, NEW BLACK. MINT - / MINT -. $15
PB 13547 PARALYZED / LITTLE SISTER. NEW BLACK. MINT - / MINT -. $15
PB 13875 BABY LET'S PLAY HOUSE / HOUND DOG. GOLD VINYL 50TH ANNIV. LBL. MINT - / MINT -. $20
PB 14090 ALWAYS ON MY MIND / MY BOY. PURPLE VINYL 50TH ANNIV. LBL. MINT - / MINT -. $25
8760-7-R HEARTBREAK HOTEL (ELVIS) / H HOTEL (DAVID KEITH). RED RCA LBL. MINT - / MINT -. $10
62402-7 DON'T BE CRUEL / AIN'T THAT LOVING YOU BABY. RECORD ONLY. NO PIC CVR. SILVER RCA LBL. WITH JUKE BOX TITLE STRIP. MINT - / MINT -. $6
62403-7 LOVE ME TENDER / BLUE CHRISTMAS. RECORD ONLY. NO PIC CVR. SILVER RCA LBL. WITH JUKE BOX TITLE STRIP. MINT - / MINT -. $6
62411-7 SILVER BELLS / SILVER BELLS. RECORD ONLY. SILVER "THE RCA RECORDS LABEL". MINT - / MINT -. WITH JUKE BOX TITLE STRIP. MINT - / MINT -. $6
SPECIAL RELEASE!!!
07863-62449-7-A HEARTBREAK HOTEL / BLANK. NEW BLACK RCA LABEL WITH NIPPER ON UPPER RIGHT SIDE!
This is one very unusual Elvis release but no information can be found in any price guides or online. This is a one sided 45RPM with the same cat # as the 1992 silver label version which most people think was only a juke box release but it wasn't as it was available commercially although very few stores carried it. That two sided release had HOUND DOG on the flip side. The number in the run out grooves (both sides) on this is "47-6420" (of course the original RCA catalog number) and it's written in! Anyway, even though the flip side is blank the song I WAS THE ONE actually plays!!

Apparently it was made only for selected one stop distributors in a few large markets months BEFORE the COMPLETE 50'S MASTERS BOX SET came out (the date on the sheet is late September 1992!) and sent to them as a kind of promo vehicle or "incentive" item or giveaway. The 50's MASTERS set came out around two or three months later (Nov or Dec 1992). The silver label single came out later in November. As I suspected there was no info at all as to why this was issued on the old NEW BLACK label (which I don't think had been used since sometime in the early-mid 1980's) and there was no info as to why it has "STEREO COMMERCIAL" on this one sided label and not on the silver label version issued later. Also note that this black label one says "GLADYS MUSIC" whereas on the later silver one it says "TREE PUBLISHING" so obviously someone made a mistake and changed it. Plus it has "NEW ORTHOPHONIC" on the right for unknown reasons!

The condition is basically VG 7 but there are noticeable "scuffs". Not sure exactly what to call them but they don't look like scratches. Actually without these I'd even call it VG +. $30

20TH ANNIVERSARY LIMITED RELEASES:
DME 11803 KING OF THE WHOLE WIDE WORLD / KING CREOLE. SPECIAL GOLD VINYL RELEASE. RED LBL / YELLOW LETTERING. MINT / MINT. $7
DME 11803-R KING OF THE WHOLE WIDE WORLD / KING CREOLE. SPECIAL RED VINYL PROMO "NOT FOR SALE" RELEASE. YELLOW LBL / RED LETTERING. MINT / MINT. $7
DME 11803-R KING OF THE WHOLE WIDE WORLD / KING CREOLE. SPECIAL WHITE VINYL PROMO "NOT FOR SALE" RELEASE. YELLOW LBL / RED LETTERING. MINT / MINT. $125


US PROMO SINGLES
WHITE LABEL:
47-8360 VIVA LAS. VG +. WRITING ON VIVA SIDE. $30
47-8440 ASK ME. VG +. $30
47-8585 EASY QUESTION. VG 9. $25
47-8780 FRANKIE & JOHNNY. VG 4. LBL TEAR ON F & J SIDE. $8
47-8870 LOVE LETTERS. CLOSE TO VG +. WRITING ON LETTERS SIDE. $10
47-9056 INDESCRIBABLY BLUE. VG 8. $15

YELLOW LABEL:
47-9425 GUITAR MAN. VG 9. $20
47-9610 LITTLE LESS CONVERSATION. ALMOST VG +. $25
47-9960 REALY DON'T WANT. VG +. NUMBER "10" ON REALLY DON'T SIDE. AND SMALL MARKS ON FLIP. $10
47-9985 LIFE. CLOSE TO VG +. $15
48-1017 IT'S ONLY LOVE. VG 5. $8
74-0769 BURNING LOVE. VG ++. $25
CREAM LABEL:
JH 11165 MY WAY. MINT -. $15
JH 11212 UNCHAINED MELODY. MINT -. $15
JB 11533 ARE YOU SINCERE. MINT -. $15
JB 11169 HONKY TONK ANGEL. MINT -. $15
JB 12205 LOVIN ARMS / YOU ASKED ME TO. MINT -. $40
JB 13500 WEAR MY RING / I WAS. MINT -. $15
JB 13547 PARALYZED / LITTLE SISTER. MINT -. $30

50TH ANNIVERSARY:
JK 14090 MY BOY / ALWAYS. (purple vinyl). MINT - with pic cvr. $35
JB 14237 MERRY XMAS BABY / SANTA CLAUS IS BACK. (green vinyl). MINT - with pic cvr. $35


EP'S
EPA 747 ELVIS PRESLEY. DOG AT TOP. WHITE TOP BORDER. VG 9 / VG+++. MUSIC BY STARLIGHT LOWER LEFT. $125
EPB 1254 ELVIS PRESLEY. B/W PIC ON BACK CVR. NO LINES. ALMOST VG + / MINT -. $200
EPA 821 HEARTBREAK HOTEL. DOG ON SIDE. VG 6 (SMALL NUMBER STKR ON BOTH SIDES) / VG+(VERY SMALL WHITE BORDER AT TOP WITH ONLY "EPA 821" AT RIGHT. NO SONG TITLES OR VERTICAL LINE!) $50
EPA 821 HEARTBREAK HOTEL. DOG ON SIDE. VG/ VG +++ (REGULAR TOP BORDER WITH SONG TITLES & VERTICAL LINE!) $75
EPA 830 SHAKE RATTLE & ROLL. DOG AT TOP. MINT - / VG 4 (TAPE) . $60
EPA 830 SHAKE RATTLE & ROLL. VG 8 (SMALL STKR BOTH SIDES) / VG 7 (SEAM SPLIT ON BOTTOM). $40
EPA 992 ELVIS VOL. I. LINES. GOOD - OR WORSE / VG +. $45
EPA 992 ELVIS VOL. I. ORANGE. VG ++ / GOOD -. $50
EPA 992 ELVIS VOL. I. DOG AT TOP. GOOD - / GOOD - BUT CLOSER TO POOR. SPLIT BOTTOM SEAM. TAPE AT TOP SEAM. $10
EPA 992 ELVIS VOL. I. DOT . RECORD ONLY. POOR. $2
EPA 992 ELVIS VOL. I. LINES. RECORD ONLY. POOR. $2
EPA 993 ELVIS VOL. II. DOG AT SIDE. VG + (SMALL STICKER ON BOTH SIDES) /WOULD BE VG + BUT FRONT HAS A TEAR AND STICKY STUFF. $40
EPA 994 STRICTLY ELVIS. DOG AT TOP. VG 9 (SMALL STICKER ON BOTH SIDES) / VG +. $35
EPA 994 STRICTLY ELVIS. LINES. VG 6 / MINT - (NO BLACK BORDER AT TOP). $40
EPA 4006 LOVE ME TENDER. DOGLESS. VG -. $40
EPA 4006 LOVE ME TENDER. DOG AT TOP. GOOD - / VG 8. $10
EPA 2-1515 LOVING YOU VOL.2. DOG AT TOP. GOOD / MINT -. $20
EPA 2-1515 LOVING YOU VOL. 2. DOG AT SIDE. VG + (SMALL STICKER ON BOTH SIDES) / VG - (SEAM SPLITS AT TOP & BOTTOM). $20
EPA 2-1515 LOVING YOU VOL.2. DOG AT TOP. RECORD ONLY. NO LINES. STKR ON ONE SIDE. GOOD -. $2
EPA 2-1515 LOVING YOU VOL.2. DOG AT TOP. LINES. RECORD ONLY. STKR ON ONE SIDE. POOR. $1
EPA 4108 ELVIS SINGS CHRISTMAS SONGS. VG + / MINT -. $60
EPA 4108 ELVIS SINGS CHRISTMAS SONGS. DOG AT TOP. NO LINES. JUST ABOUT VG + / POOR. $25
EPA 4114 JAILHOUSE ROCK. DOG AT TOP. NO LINES. VG 4 / VG +. $15
EPA 4114 JAILHOUSE ROCK. ORANGE. WARPED / POOR. $5
EPA 4319 KING CREOLE. DOG AT TOP. RECORD ONLY. STR ON BOTH SIDE. VG 5. $15
EPA 4371 KID GALAHAD. VG (DIFFERENT FONT LABEL) / WOULD BE MINT - BUT TAPE REMNANT ON BACK. $20
EPA 5120 THE REAL ELVIS. DOG AT TOP. GOOD + / VG 5 (TEAR ON FRONT COVER BOTTOM). $25
EPA 5120 THE REAL ELVIS. DOG ON SIDE. GOOD (+ SMALL STICKER ON BOTH SIDES) / WOULD BE VG + BUT BOTTOM SEAM SPLIT AND RECORD STORE STAMP ON BACK CVR. $25
EPA 5121 PEACE IN THE VALLEY. DOG ON SIDE. VG 7 / VG + (BUT WITH LEFT SPINE SEAM SPLIT AND THE ENTIRE BOTTOM OF THE CVR IS SPLIT). $20
EPA 5121 PEACE IN THE VALLEY. ORANGE LBL RECORD ONLY. VG 9. $30
EPA 5121 PEACE IN THE VALLEY. DOG ON SIDE. VG 8 /POOR BUT SEAM SPLITS AND TEARS. $10
LPC 128 FLAMING STAR - ELVIS BY REQUEST. 33 1/3 RPM COMPACT DOUBLE ## LBL.VG + (MAYBE BETTER!) / VG 7. $15.
64476-7 HEARTBREAK HOTEL. 1996 WHITE RCA / BMG LABEL. MINT - / MINT - (WITH JUKE BOX TITLE STRIPS). $15