NOVEMBER 13, 2017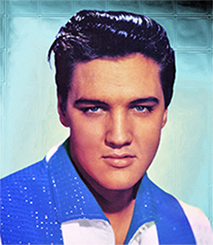 HI ELVIS COLLECTORS

,


NEW FTD CD AND LP RELEASES!!


Two new FTD releases are expected in the next week or so. KISSIN COUSINS and THE BICENTENNIAL SHOW. Everyone on the automatic list will get them (unless you've stated otherwise) but if anyone else wants them let me know!



80 + U.S. LP'S FOR SALE!


I have listed below a batch of the U.S. LP's I have left in stock. While the list might not appear to say this I actually have over 80 LP's in total. Could be 90 or even close to 100!



MOVED!!


I have a new address. Please see below.


Sincerely,
Paul Dowling
WORLDWIDE ELVIS
4534 WHIRLAWAY DR
SARASOTA, FL. 34233
(941) 346 - 1930
E mail: paul@worldwideelvis.com



UNITED STATES ORIGINAL LP'S FOR SALE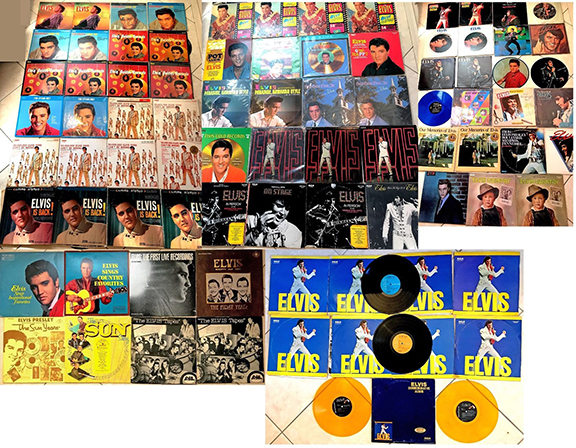 - The following U.S. LP's are for sale in one batch for $149.95 + postage. Please ignore the prices on each as I am only selling these as a lot!
- Actually there are a total of 80 LP's or more as I may not have added in extras. Att any rate this is one super deal!! - If you live in the U.S. the postage (MEDIA MAIL) would be $31.01 but overseas it would be more depending on where you live.

- LSP 1382(e) ELVIS. NEW BLACK. VG 9 / ALMOST VG + (SER). $6
- LSP 1382(e) ELVIS. ORANGE. GOOD / VG 7 (RE). $6
- - LPM 1707 ELVIS' GOLDEN RECORDS. LARGE WHITE RCA VICTOR. MONAURAL. POOR / POOR (SEAM SPLITS; RE CVR). $2
- LSP-1707(e) ELVIS' GOLDEN RECORDS. ORANGE. GOOD / POOR (SER ON FRONT & BACK; BLACK BORDER AROUND FRONT CVR). $4
- LSP 1707(e) ELVIS' GOLDEN RECORDS. NEW BLACK. MINT - / ALMOST VG - (SER ON FRONT & BACK). $8
- LSP 1707 (e) ELVIS' GOLDEN RECORDS. TAN LBL. MINT - / POOR (SER ON FRONT & BACK; BLACK BORDER AROUND FRONT CVR). $2
- AFL1-1990(e) FOR LP FANS ONLY. NEW BLACK / VG + ((RE ON FRONT & BACK). $6 - LSP-2075 50,000,000 ELVIS FANS CAN'T BE WRONG. ORANGE. VG 8 / POOR. $5
- LSP-2075 50,000,000 ELVIS FANS CAN'T BE WRONG. NEW BLACK. MINT - / MINT - (CUT OUT SLICE TOP RIGHT). $5
- LSP-2075 (e) 50,000,000 ELVIS FANS CAN'T BE WRONG. NEW BLACK. MINT - / MINT -. VG 9 / GOOD - (SEAM SPLITS; SER ON FRONT BOTT0M). ALSO HAS A STICKER NEAR THE CAT # ON FRON THAT SAYS "- AFL1-2075). $5
- AFL1-2075 50,000,000 ELVIS FANS CAN'T BE WRONG. NEW BLACK. MINT - / MINT -. $5
- LPM 2231 ELVIS IS BACK. SINGLE POCKET CVR ONLY. GOOD - (OR WORSE). WRITING ON BACK; SEAM SPLITS. $4
- LSP 2231 ELVIS IS BACK. BOOKLET CVR ONLY. VG+. $6
- LSP 2231 ELVIS IS BACK. ORANGE. BOOKLET CVR. VG 8 / ALMOST VG +. $8
- LSP 2231 ELVIS IS BACK. BOOKLET CVR. NEW BLACK. MINT - / VG 5. $8
- LSP 2231 ELVIS IS BACK. BOOKLET CVR ONLY. MADE BY DCC COMPACT CLASSICS AROUND 1997. $4.
- LSP-2238 HIS HAND IN MINE. BLACK RCA VICTOR "STEREO" (SMALL PRINT). POOR / VG 9. $6
- LSP-2238 HIS HAND IN MINE. ORANGE. MINT - / POOR (RE ON FRONT & BACK)- TAPE ON ALL SIDES. $2
- LSP-2426 BLUE HAWAII. ORANGE. VG + / VG +(RE ON FRONT & BACK). $8
- LSP 2523 POT LUCK. SILVER RCA VICTOR LIVING STEREO RECORD ONLY. POOR. $2
- LSP-2523 POT LUCK. ORANGE. VG 3 / GOOD - (RE ON FRONT & BACK). $4
- LSP 2765 ELVIS' GOLDEN RECORDS VOL. 3. NEW BLACK. VG + / MINT -. $6
- LSP-3643 PARADISE, HAWAIIAN STYLE. NEW BLACK. VG 8 / VG 7 (RE ON FRONT & BACK CVR). $4
- AFL1 3921 ELVIS GOLD RECORDS VOL. 4.TAN.ALMOST MINT - BUT BOTH SIDES OF LBL HAS BAD TEARS / MINT -. . $3
- - LPM-4088 ELVIS' TV SPECIAL. ORANGE. GOOD - / POOR. $2
- LSP 6020 FROM MEMPHIS TO VEGAS / FROM VEGAS TO MEMPHIS (2 LP'S). ORANGE. VG 7 / POOR (CUT OUT SLICE ON UPPER LEFT). $4
- LSP 4362 ON STAGE 1970. ORANGE. POOR / GOOD -. $6
- LSP 4428 ELVIS IN PERSON AT THE INTERNATIONAL HOTEL LAS VEGAS. ORANGE. VG 5 /POOR. $4
- AYL1 3892 ELVIS IN PERSON AT THE INTERNATIONAL HOTEL. NEW BLACK.MINT - / VG +. $4
- LSP 4671 ELVIS NOW. TAN. MINT - / VG 5 (SOME SEAM SPLITS). $8
- CPL1 0341 LEGENDARY PERFORMER VOLUME 1. BLACK LEG PERFORMER LBL. MINT - / MINT -. $15
- CPL1 1349 LEGENDARY PERFORMER VOL. 2. BLACK LEG PERFORMER LBL. MINT - / VG 8 -. $6
- AFL1 2428 MOODY BLUE. BLUE VINYL.RECORD ONLY. MINT -. $2
- CPL1 2901 ELVIS SINGS FOR CHILDREN AND GROWNUPS TOO. VG 9 / VG 5 (NO CARD ON BACK). $5
- AQL1 3279 OUR MEMORIES OF ELVIS. NEW BLACK. VG + / CLOSE TO VG +. $7
- AQL1 3448 OUR MEMORIES OF ELVIS VOLUME 2. NEW BLACK. VG 8 / VG 9. $6
- APL1-1506 FROM ELVIS PRESLEY BLVD. NEW BLACK. VG 8 / POOR. $3
RCA CAMDEN / PICKWICK LP'S
- CAS 2408 LET'S BE FRIENDS. BLUE RCA "CAMDEN". POOR / POOR. $2
- CAS 2428 ELVIS' CHRISTMAS ALBUM. BLUE RCA CAMDEN. VG 2/ GOOD - TO POOR. $3
- CAS 2428 ELVIS' CHRISTMAS ALBUM. BLUE RCA CAMDEN. GOOD - / POOR. $2
- CAS 2428 ELVIS' CHRISTMAS ALBUM. BLUE RCA CAMDEN. POOR / POOR. $1
- CAS 2428 ELVIS' CHRISTMAS ALBUM. PICKWICK . MINT - / VG 8. DIFFERENT CVR THAN THE ORIGINAL. $3
- CAS 2428 ELVIS' CHRISTMAS ALBUM. BLACK PICKWICK. VG + / VG 6. $2
- CALX 2472 YOU'LL NEVER WALK ALONE. BLUE RCA CAMDEN. VG / POOR. $1
- CAS 2595 BURNING LOVE & HITS FROM HIS MOVIES. BLUE RCA CAMDEN. VG + / VG 9 (SOME SEAM SPLITS BUT NOT BAD). $5
- CAS 2595 BURNING LOVE & HITS FROM HIS MOVIES. BLUE RCA CAMDEN. VG 9 OR BETTER / VG 9 (STAPLE HOLES TOP LEFT). $3
- CAS 2595 BURNING LOVE & HITS FROM HIS MOVIES. PICKWICK. JUST ABOUT MINT - / WOULD BE VG + BUT LOWER RIGHT CORNER HAS A SLIT / TEAR. $6
- CAS 2611 SEPARATE WAYS. PICKWICK. MINT - / VG 9 BUT WITH CUT OUT SLICE TOP LEFT. $4
- CAS 2611 SEPARATE WAYS. PICKWICK. MINT - / VG 9 BUT WITH CUT OUT SLICE TOP RIGHT. $4
- CAS 2611 SEPARATE WAYS. PICKWICK. VG + / VG 7 BUT WITH CUT OUT SLICE TOP LEFT. $2
- DL2 5001 DOUBLE DYNAMITE. 2 LP SINGLE POCKET SET. BLACK RCA "PICKWICK". POOR / POOR. $1

RCA SPECIAL PRODUCTS
- DPL1 0086 THE BIGHTEST STARS OF CHRISTMAS. VARIOUS ARTIST / ELVIS (HERE COMES SANTA CLAUS) RC SPECIAL PRODUCTS LP ISSUED 1974. MAY HAVE BEEN THE FIRST OF ITS' KIND! STILL SEALED! $5
- DPL2 0056e ELVIS. RCA SPECIAL PRODUCTS (BROOKVILLE) 2 LP'S IN SINGLE CVR. TAN. MINT - / VG +++. $5
- DPL2 0056e ELVIS. RCA SPECIAL PRODUCTS (BROOKVILLE) 2 LP'S IN SINGLE CVR. BLUE RCA "SPECIAL PRODUCTS". MINT - / VG (SEAM SPLITS). $5 (11 COPIES)
- DPL2 0056e ELVIS COMMEMORATIVE ALBUM. RCA SPECIAL PRODUCTS. GOLD VINYL. 2 LP BOOKLET CVR SET NUMBERED - 65592. MINT - / POOR. $4

RCA RECORD CLUB LP'S
- R 213690 WORLDWIDE GOLD AWARD HITS, PARTS 1 & 2. 2 LP'S SINGLE CVR. TAN. GOOD - / POOR. $2
- R 213690 WORLDWIDE GOLD AWARD HITS, PARTS 1 & 2. 2 LP'S SINGLE CVR. NEW BLACK. VG 9 / GOOD - (SEAM
SPLITS). $2
- R213736 ALOHA FROM HAWAII. BOOKLET CVR. BUT I ONLY HAVE ONE RECORD (SIDE C & D). GOOD / GOOD +. $4

MISCELLANEOUS LP'S
- GNW 4005 THE ELVIS TAPES. 1977. GREAT NORTHWEST MUSIC CO. LBL. MINT - / VG 9. $2
- PB 3601 THE FIRST LIVE RECORDINGS. MUSIC WORKS. 1982. MINT - / MINT - ICUT OUT SLICE) . $2
- SUN 1001 THE SUN YEARS. (YELLOW COVER). MINT - / VG 9. $2
- RNDA 71103 THE SUN STORY. 2 LP SINGLE POCKET. 1986. MADE FOR BMG DIRECT MARKETING FOR RHINO RECORDS. ELVIS DOES GOOD ROCKIN TONIGHT & THAT'S ALL RIGHT MAMA. MINT - / MINT -. $3
- GEL 101 ELVIS SCOTTY & BILL- THE FIRST YEAR. BOOKLET CVR. GOLDEN EDITIONS LTD LABEL. CONTAINS SONGS FROM MARCH 1955 EAGLE'S HALL, HOUSTON, TEXAS. MINT - / VG 7 (SEAM SPLITS). $5



VINYLTITLE
80 VARIOUS ARTISTS / ELVIS LP'S
FORMAT
LP'S
VINYL
BLACK UNLESS NOTED!
COUNTRY
VARIOUS
PRICE
PRICE: $200 + POSTAGE!
COMMENTS
Below (and pictured-click on small photo for a larger view) are around 77 single (2 LP sets) LP's + 4 box sets of various artist / Elvis and promotional LP's in one batch! Buy them at the prices listed or buy ALL for $175 + postage!
Please click on the photo for a larger version of some.
ARGENTINA
- WAHR 2625 / 26 LOS EXITOS DEL MOMEMNTO. COVER ONLY. PROMO VAR ARTIST (SUSPICIOUS MINDS). GOOD -. $2
- AVS 4387 NO HAY EDAD PARA EL RECUERDO. VARIOUS ARTIST LP 1976 - BLUE SUEDE SHOES. MINT - / MINT -. $4
- TLP 60298 LA MUSICA DE MOCHIN MARAFIOTI (RADIO MITRE). 1988 NEW BLACK RCA VICTOR LBL. VERY INTERESTING VAR ARTIST LP (ELVIS DOES BS SHOES AND JAILHOUSE ROCK) IN THAT THE FR0NT CVR SHOWS A PIC OF A DJ WORKING BUT WITH THREE ELVIS LP'S IN FRONT OF HIM ON HIS DESK !!! MINT - / CLOSE TO MINT -. $10.

BRAZIL
ALL MINT -/ MINT - OR CLOSE TO IT!!
- 404.7058 ESCALADA. SOM LIVRE.1975. KISS ME QUICK; BLUE SUEDE SHOES. $4
- 107.4028 SAUDADE JOVEM. ORANGE RCA VICTOR. 1975. LOVE LETTERS. $4 YES I KNOW IT MAKES NO SENSE AS VOL. 1 HAS AN EARLIER CATALOG NUMBER!!!
- 107.4026 SAUDADE JOVEM VOL. 2.1976. ORANGE RCA VICTIOR. NOW OR NEVER. $4
- 404.7080 ESTUPIDO CUPIDO. SOM LIVRE LBL. 1976. DON'T BE CRUEL. $4
- 104.4081 ROCK N ROLL '60.ORANGE RCA VICTOR. 1976. ARE YOU LONESOME.
- 103.0229 AS CAMPEAS DO BARROS DE ALENCAR. 1977. NEW BLACK. THERE IS A SMALL COLOR ALOHA PIC ON FRONT (SAME PIC AS ON WELCOME TO MY WORLD LP). SUSPICIOUS MINDS. $7
- 104.4134 YESTERDAY. NEW BLACK. 1979. YESTERDAY. $4
- 421.7002 25 ANOS DE ROCK N ROLL. SOM LIVRE. 1980. 2 LP SET (2 LP'S IN ONE CVR). BLUE SUEDE SHOES. $4
- 104.4149 COUNTRY FEELIN'S. 1981. NEW BLACK. GUITAR MAN. $4
- 104.4149 COUNTRY FEELIN'S. 1981. NEW BLACK. GUITAR MAN. PROMO VERSION. HAS "ESPECIAL PARA` PROMOCAO...." ON LABEL (NOT STAMPED IN BUT PART OF THE LBL.) $7
- 404.7212 GOOD TIMES 98. SOM LIVRE. 1984. SYLVIA. $4
- 109.8012 ROCK MEMORIES. 1984. ORANGE RCA VICTOR. $4
- 406.7003 EMOCOES. 1984. SOM LIVRE. LOVE ME TENDER. $4
- 590.003 BAMBNOLE. 1987. SOM LIVRE. JAILHOUSE ROCK. $4
- 407.0008 LOVE DREAMS. 1989. SOM LIVRE. SYLVIA. $4

CANADA
- CPL2 4351 60 YEARS OF COUNTRY MUSIC. 1982 TWO LP SET ISSUED BY RCA. BOOKLET COVER. "HEARTBREAK HOTEL" FRONT HAS A LARGE COLOR DRAWING OF NIPPER AND THE RCA VICTROLA. INSIDE SLEEVES HAS GREAT LINER NOTES INCLUDING INFORMATION ON EACH SONG!. BACK CVR HAS COLOR REPRODUCTIONS OF SOME OF THE VARIOUS RCA 78 AND SINGLES LABELS INCLUDING 47-6420 NO LINES! REAL NICE LP. MINT - / ALMOST MINT - BUT THERE IS A CUT ON THE FRONT COVER RIGHT SIDE MID WAY DOWN. $8


ECUADOR
- 700127 LISTA DE NOVEDADES NO. 6 JULY 1981. VERY RARE BLACK "DISCO PROMOCIONAL" RCA LBL. ISSUED 1981. ONE CUT BY ELVIS (GUITAR MAN). MINT - / MINT -. $8

ENGLAND
- NOEL 1 CHRISTMAS AT THE COUNTRY STORE. VARIOUS ARTISTS (SILVER BELLS. SMALL EL PIC ON FRONT. MINT - /MINT -. $6
- SM.361-366 THE GREAT TRANSATLANTIC HITS. 6 LP BOX SET. WORLD RECORDS LABEL. VARIOUS ARTISTS. HEARTBREAK HOTEL; LOVE ME TENDER; ALL SHOOK UP; RETURN TO SENDER; CRYING IN THE CHAPEL; NOW OR NEVER;JAILHOUSE ROCK. EACH LP HAS A BEAUTIFUL GLOSSY LAMINATED COVER WITH COLOR PICS OF THE ARTISTS. THERE ARE TWO ELVIS ALOHA PICS. COMES WITH GUARANTEE. MINT - / MINT -. $15

GERMANY
- PL 70481 (2) LOVE SONGS. 2 LP VARIOUS ARTISTS BOOKLET CVR. NEW BLACK. SMALL ALOHA ELVIS PIC ON CVR. CAN'T HELP FALLING IN LOVE. MINT - / MINT -. $8
- 342028-1 LOVE DREAMS. CLUB EDITION. 1985 CLUB EDITION. NEW BLACK VARIOUS ARTIST LP (CAN'T HELP FALLING). SMALL ELVIS ALOHA PIC ON FRONT CVR. MINT - / MINT -. $6
- 6017 LOVE DREAMS. 1985. NEW BLACK. SAME LP AS - 42028-1 BUT SLIGHTLY DIFFERENT LBL. NO ELVIS PIC ON COVER AT ALL. MINT - / VG 8. $4
- NL 70485 HIT ROLLER. NEW BLACK RCA VICTOR LBL. (CAN'T HELP FALLING IN LOVE). MINT - /MINT - . SAME LP (FRONT, BACK AND SONGS) AS THE GREEK VERSION. $4
- PL 70481 (2) THE MOST BEAUTIFUL LOVE SONGS. NEW BLACK RCA VICTOR LBL. VARIOUS ARTIST 2 LP SET (CAN'T HELP FALLING IN LOVE). MINT - / VG 8. THIS IS THE SAME LP AS THE GREEK VERSION EXCEPT IT HAS A BOOKLET COVER AND THE GREEK VERSION HAS SOME GREEK WRITING ON THE FRONT & BACK NOT ON THE GERMAN ONE. $4
- NL 89110 CHISTMAS IN THE COUNTRY.1983. NEW BLACK. SILVER BELLS. $4
- 208569 STARKE ZEITEN. SILVER ARIOLA. 1987. HEARTBREAK HOTEL. $4
- 208570 STARKE ZEITEN. SILVER ARIOLA. 1987. IN THE GHETTO. $4
- PL 71156 FLAIR HIT COLLECTION. NEW BLACK. 1986.BOOKLET CVR. SMALL JAILHOUSE ROCK HEAD SHOT ON FRONT. AND INSIDE. $6
- PL 75185 SLOW MOTION. NEW BLACK. 1991. CAN'T HELP FALLING IN LOVE. $4
- 206 726 MEMPHIS INTERNATIONAL EDITION. RED "MEMPHIS INTL EDITION" LBL.1985. BOOKLET CVR. CAN'T HELP FALLING IN LOVE. $4

GERMAN BOX SETS
- R10005 THE GREAT ROCK N ROLL SHOW 4 LP BOX SET. STILL SEALED! VARIOUS ARTIST. CONTAINS ONE ELVIS LP. PROBABLY SOME KIND OF PICKWICK LBL. NO ELVIS PIC ON FRONT OR BACK! $10
- 27-092-6 ROCK HISTORY. THIS IS ONE WEIRD RELEASE. IT IS A 5 LP BOX SET THAT CONTAINS 4 VARIOUS ARTISTS ONTHE RED SONOCORD LABEL PLUS THE RCA BLUE INTERNATIONAL 27 673-3 A PORTRAIT IN MUSIC LP!!! COMES WITH A 4 PAGE BOOKLET WITH INFO ON WHAT'S ON THE LP'S. THE FRONT COVER HAS A PIC OF A GUY IN A BLACK LEATHER SUIT WITH A GIRL IN A SEXY RED DRESS ON A BEACH WITH A JUKE BOX!!! VERY VERY ODD BOX ET AND I HAVE ABSOLUTELY NO IDEA WHY IT WAS MADE! THE CORNERS ARE MOSTLY SPLIT. RECORDS ARE MINT -. $12

GREECE
- RCLP 20356 HIT ROLLER. NEW BLACK RCA VICTOR LBL. VARIOUS ARTIST (CAN'T HELP FALLING IN LOVE). MINT - / MINT - . $4
RCLP 20362/3 THE MOST BEAUTIFUL LOVE SONGS. NEW BLACK RCA VICTOR LBL. VARIOUS ARTIST 2 LP SET (CAN'T HELP FALLING IN LOVE). MINT - / VG 8. $3
- MCA 18752 BACK TO THE FIFTIES. WHITE BMG LABEL. 2 LP VARIOUS ARTIST SET BOOKLET CVR. JAILHOUSE ROCK MINT - / MINT - . $4
- 2417871 THE WEEKENDER CLASSIC COLLECTION. 2 LP VARIOUS ARTIST BOOKLET CVR. WHITE "WEEKENDER CLASSIC" LBL. NOW OR NEVER / ALWAYS ON MY MIND. MINT - / MINT -. $5

HOLLAND
- LP 1984-13 THIS IS MY SONG. YELLOW MUSIC SOCIETY LBL. 2 LP BOOKLET CVR VARIOUS ARTIST SET ISSUED IN 1984. ELVIS ALOHA PIC ON FRONT - ARE YOU LONESOME TONIGHT. MINT - / VG + . $8

MEXICO
- PRO 4281 ORGANIZACION RADIO CENTRO. SILVER LABEL PROMO ISSUED IN 1987. VARIOUS ARTIST LP - SUSPICIOUS MINDS. MINT - / MINT -. $5

PHILIPPINES
- XFPL1 7001 DISCO BOOGIE WOOGIE. ORANGE LBL. 1979 VAR ARTISTS RCA LP WITH EL DOING BLUE SUEDE SHOES. MINT - / ALMOST MINT - $8
- XFPL1 739 SONGS OF CHRISTMAS. ORANGE LBL. RCA 1980 VAR ARTISTS LP -I'LL BE HOME FOR CHRISTMAS; WINTER WONTERLAND. NO EL PICS AT ALL. MINT - / VG +. $7
- RCA 31102 ROCK N ROLL - EARLY DAYS. 1985 BLACK RCA LBL. VAR ARTIST + ELVIS THAT'S ALL RIGHT. MINT - / MINT -. $3

SPAIN
- SPL2 9925 25 ANOS DE EXITOS. ORANGE RCA VICTOR LBL. THIS 1976 2 LP BOOKLET CVR VARIOUS ARTIST (IN THE GHETTO) SET WAS ISSUED TO CELEBRATE 25 YEARS OF RCA IN SPAIN! NO PICS OF ANY OF THE ARTISTS MINT - / VG +. $6

SPANISH BOX SET
- 1-10 LAS GRANDES ESTRELLAS DEL ROCK. GREEN "SARPE" LBL. THIS WAS A LEGIT 10 LP BOX SET ISSUED BY THE LOCAL SPANISH MAGAZINE "SARPE" IN 1982. IT WAS A VARIOUS ARTIST SET WITH ONE COMPLETE LP ON ELVIS. THE OTHER ARTISTS WERE LITTLE RICHARD; CHUBBY CHECKER; MARTHA REEVES; SAM & DAVE; THE ASSOCIATION; DRIFTERS PAUL ANKA; EVERLY BROTHERS; AND MANY OTHERS BUT NO ONE EXCEPT ELVIS GOT A SPECIAL LP BY HIMSELF. THIS COMES WITH A 20 PAGE MAGAZINE WITHA COLOR PIC OF ELVIS WITH BLUE JUMPSUIT ON THE COVER AND A 4 PAGE ARTICLE WITH PICS INSIDE. ALSO INCLUDED WAS A POSTER ADVERTISING THE COMPLETE SET. HOWEVER, THIS BOX SET ONLY COMES WITH THE ELVIS LP AND NONE BY THE OTHER ARTISTS. MOST COLLECTORS HAVE NEVER HEARD OF THIS BEFORE. FROM COVER HAS SMALL COLOR TINTED PICTURES OF A LOT OF THE ARTISTS INCLUDING ELVIS (LP FANS ONLY CVR PIC). BACK COVER IS JUST BLACK. THE SONG LISTINGS ARE ON THE INSIDE FRONT COVER. MINT - / VG 3 EXCEPT THERE ARE SHIPPING SEAM SPLITS AND CORNER BENDS. A STEAL AT $30. I HAVE ONLY THE ELVIS LP AND THE BOX AND INSERTS AVAILABLE TO SELL!!

VENEZUELA
- LPUS 006 HOT 100 EL SONIDO DEL VERANO. ORANGE. VERY ODD VAR ARTIST LP ISSUED IN 1974. CONTAINS "PROMISED LAND". NO ELVIS PIC ON FRONT OR BACK. VG 8 / VG +. $10
- LPUS 296 YESTERDAY. ORANGE. 1979 VARIOUS ARTIST LP. "YESTERDAY". NO ELVIS PIC AT ALL. MINT - / MINT -. $6

UNITED STATES
- NW 207 COUNTRY MUSIC IN THE MODERN ERA (1940S-1970S). 1975 2 LP BOOKLET COVER SET ISSUED BY NEW WORLD RECORDS. THERE ARE PAGES WITH LINER NOTES INSIDE. "MYSTERY TRAIN". THIS MAY HAVE BEEN ONE OF THE FIRST LP'S OUTSIDE OF RCA TO USE AN ELVIS SONG! STILL SEALED (AT LEAST ON THREE SIDES. THE TOP IS OPEN! $6
- E1 60107 DINER ORIGINAL MOTION PICTURE SOUNDTRACK. 1982 TWO LP (IN SINGLE SLEEVE) LP ISSUED BY ELEKTRA RECORDS WITH SONGS FROM THE DINER MOVIE. "DON'T GE CRUEL". ALSO INCLUDES "RECOSNDER BABY" BY LOWELL FULSON! MINT - / VG + (WITH UPPER RIGHT HAND CORNER BEND. $4
- DPL1 0561 COUNTRY GOLD. 1982. "ARE YOU LONESOME TONIGHT". STILL SEALED. $3
- CPL2 4351 60 YEARS OF COUNTRY MUSIC. 1982 TWO LP SET ISSUED BY RCA. BOOKLET COVER. "HEARTBREAK HOTEL". FRONT HAS A LARGE COLOR DRAWING OF NIPPER AND THE RCA VICTROLA. INSIDE SLEEVES HAS GREAT LINER NOTES INCLUDING INFORMATION ON EACH SONG!. BACK CVR HAS COLOR REPRODUCTIONS OF SOME OF THE VARIOUS RCA 78 AND SINGLES LABELS INCLUDING 47-6420 NO LINES! REAL NICE LP. MINT - / ALMOST MINT - BUT THERE IS A CUT ON THE FRONT COVER RIGHT SIDE MID WAY DOWN. $5
- DPL1 0608 HAPPY HOLIDAYS VOL. 18. 1983. ISSUED FOR TRUE VALUE HARDWARE STORES ONLY! "IF EVERYDAY WAS LIKE CHRISTMAS". STILL SEALED. $3 (2 COPIES)
- DPL1 0713 HAPPY HOLIDAYS VOL. 20. 1985. ISSUED FOR TRUE VALUE HARDWARE STORES ONLY! "BLUE CHRISTMAS". STILL SEALED. B/W HEAD SHOT PIC OF EL FROM EARLY 60'S ON BACK CVR. $3. (2 COPIES)
- DPL1 0739 HAPPY HOLIDAYS VOL. 21. 1986. ISSUED FOR TRUE VALUE HARDWARE STORES ONLY! "SILVER BELLS". STILL SEALED. SMALL COLOR JAILHOUSE ROCK HEAD SHOT ON BACK.$3
- AHL1 7004 14 #1 COUNTRY HITS. 1985 RCA. "GUITAR MAN". STILL SEALED. $3 - CPL1 7013 THE BEST OF CHRISTMAS. 1985 RCA. "SILVER BELLS". STILL SEALED. $3
- DPL1 0716 A CHRISTMAS TREASURY OF CLASSICS FROM AVON. 1985 AVON RELEASE. "SILVER BELLS". STILL SEALED. SMALL COLOR JAILHOUSE ROCK HEAD SHOT ON BACK. $3. (9 COPIES)
- DPL1 0751 AVON VALENTINE FAVORITES. 1086 AVON RELEASE. "CAN'T HELP FALLING IN LOVE". SMALL COLOR 70'S "LIVE" PROFILE JUMPSUIT HEAD AND SHOULDERS PIC HARDLY EVER SEEN BEF9RE! STILL SEALED. $3. (5 COPIES)
- DPL1 0803 CELEBRATE THE SEASON WITH TUPPERWARE. 1987 TUPPERWARE HOME PARTIES RELEASE. "I'LL BE HOME FOR CHRISTMAS". SMALL J ROCK HEAD SHOT (DIFFERENT THAN ON THE ONES ABOVE!). STILL SEALED. $3
- DPL1 0803 CELEBRATE THE SEASON WITH TUPPERWARE. 1987 TUPPERWARE HOME PARTIES RELEASE. "I'LL BE HOME FOR CHRISTMAS". SMALL J ROCK HEAD SHOT (DIFFERENT THAN ON THE ONES ABOVE!). MINT BUT NOT SEALED. $3
- DPL1 0829 BILLBOARD - 1959. 1988 RCA RELEASE ISSUED FOR RHINO RECORDS. "BIG HUNK O LOVE". SMALL B/W J. RICK PIC ON BACK. MINT - / MINT - (WITH SHRINK WRAP STILL ON BUT NOT SEALED! $3
- STL 112 COUNTRY USA 1958. 1989 TWO LP BOOKLET COVER. ISSUED BY TIME LIFE. LINER NOTES INSIDE. "DON'T". GREAT B/W PIC OF ELVIS AND JOHNNY CASH INSIDE! MINT - / MINT -. $3
- STL 113 COUNTRY USA 1969. 1989 TWO LP BOOKLET COVER. ISSUED BY TIME LIFE. LINER NOTES INSIDE. "SUSPICIOUS MINDS". MINT - / MINT -. $3
- SVL3 0776 SOLID GOLD HITS FROM THE 60'S. 1987 RCA SPECIAL PRODUCTS 3 LP SET (IN A SINGLE COVER). "NOW OR NEVER"; "STUCK ON YOU"; "ARE YOU LONESOME". INTERESTINGLY, THIS SET ALSO CONTAINED TERRY STAFFORD'S VERSION OF "SUSPICION" FOR UNKNOWN REASONS! MINT - / ALMOST VG ++ WITH THE SHRINK WRAP STILL ON BUT NOT SEALED. UNFORTUNATELY, PROBABLY DUE TO SHIPPING, THERE ARE MANY CORNER BENDS AND CREASES! $3
- 8372-1-RCA MISTLETOE AND MEMORIES. 1988 BMG. "O COME ALL YE FAITHFUL". STILL SEALED. $3
- FSC 5406-1 THE STARS OF CHRISTMAS. 1988 AVON BMG RELEASE. "IF EVERYDAY WAS LIKE CHRISTMAS". SMALL COLOR HEAD SHOT OF EL ON BACK FROM 50'S. COMES WITH 20 PAGE BOOKLET (NOT INSIDE LP AS IT'S STILL SEALED!) WITH A PAGE OF SMALL LINER NOTES, LYRICS AND A PHOTO DEVOTED TO EACH ARTIST!! VERY HARD-TO-FIND WITH THIS BOOKLET! $8
- FSC 5406-1 THE STARS OF CHRISTMAS. 1988 AVON BMG. "IF EVERYDAY WAS LIKE CHRISTMAS". STILL SEALED! $3
- SVL2 0857 A MERRY COUNTRY CHRISTMAS. 1988 BMG 2 LP SET (TWO RECORDS IN A SINGLE COVER!). "SILENT NIGHT". NOT SEALED! MINT - / MINT -.$3
---
VINYLTITLE
RARE ELVIS SINGLES
FORMAT
SINHGLES
COUNTRY
VARIOUS
PRICE
PRICE: $50 + POSTAGE!
COMMENTS
I am selling these rare Elvis singles for only $50 + POSTAGE! - All are MINT - unless noted!! - This is an INCREDIBLE deal!
Please click on the photo for a larger version of them.
CONTENTS
- SUN 600 TWEEDLE DEE / LA HAYRIDE INTER4VIEW 1956. SUN LBL. PURPLE VINYL. MINT -
- SUN 223 MYSTERY TRAIN / I FORGOT. BOOT OF ORIGINAL. VG +.
- 81677 THAT'S ALL RIGHT (RECORDED LIVE) / THE PRESS INTERVIEWS ELVIS SAN ANTONIO, TX 1967. WHITE LBL WITH 3 SMALL HEAD SHOTS ON LBL. ( 2 COPIES)
- SW 100 THE TRUTH ABOUT ME / 1955 TEXARKANA INTERVIEW. SPOKEN WORD RECORDS. PICTURE OF EL ON BOTH SIDES. VG 8.
- 2-883-1.5 INTERVIEW JAN 10, 1958; GERMANY 1959. ONE SIDED FLEXI DISC. "ELVIS GRACELAND" LABEL. MINT -
- 1-483-3 AFN RADIO BROADCAST 1960. ONE SIDED FLEXI DISC. "ELVIS GRACELAND" LABEL. MINT -
- DSELP-FR ELVIS PRESLEY'S GREATEST HITS. 33 1/3 RPM ONE SIDED FLEXI DISC ISSUED IN BELGIUM TO PROMOTE THEIR VERSION OF THE READERS DIGEST BOX SET. MINT - / MINT -. NICE THIN CARDBOARD CVR WITH DIFFERENT 70'S PICS ON EACH SIDE. (2 COPIES)
- LVIS SPEAKS - THE TRUTH ABOUT ME. ONE SIDED FLEXI DISC. BLUE LABEL. MINT -
- 92444 BEGINIINGS ELVIS STYLE PART 1 & 2). MEMPHIS FLASH LABEL. VG 9

---
CD TITLE
KISSIN COUSINS
LABEL
FTD (BMG)
RELEASE DATE
NOVEMBER 2017
PRICE
$46.95
COMMENTS
As part of its CLASSIC ALBUM series, FTD is pleased to announce the release of the original soundtrack album for "KISSIN' COUSINS." It features unreleased outtakes, rarities and an informative illustrated 16-page booklet with rare memorabilia, movie trivia and photos. Due to the small amount of existing outtakes (as Elvis didn't record with the band) it includes instrumental masters recorded at the RCA Studio in Nashville that show the great musicianship of the players.
Please click on the photo for a larger picture of the cover.
DISC ONE - THE ORIGINAL ALBUM
Kissin' Cousins (Number 2) - Smokey Mountain Boy - There's Gold In The Mountains - One Boy Two Little Girls - Catchin' On Fast - Tender Feeling - Anyone (Could Fall In Love With You) - Barefoot Ballad - Once Is Enough - Kissin' Cousins - Echoes Of Love - (It's A) Long Lonely Highway
OUTTAKES, UNEDITED MASTERS, TRACKS & INSTRUMENTALS:DJ LABEL
Kissin' Cousins (Number 2) (Unedited Master) - Catchin' On Fast (Unedited Master) - Anyone (Could Fall In Love With You) (Vocal Overdubed Take 2 / Alternate Master) - Kissin' Cousins (Hillbilly Vocal) - Kissin' Cousins (Regular Vocal) - Barefoot Ballad (Vocal Overdub, Take 2 & Pickup Take 4 - Partial) - Barefoot Ballad (Instrumental) - There's Gold In The Mountains (Instrumental) - Pappy Won't You Please Come Home (Dolores Edgin Vocal, Take 6 / Master) - There's Gold In The Mountains (Track, Take 1 - 2) - One Boy Two Little Girls (Track, Take 2) - Once Is Enough (Track, Take 1) - Tender Feeling (Track, Take 1) - Kissin' Cousins (Number 2) (Track, Take 1) - Smokey Mountain Boy (Track, Take 1 - Intro & Take 4 / Master) - Catchin' On Fast (Track, Take 1 & Ending Take 2) - Barefoot Ballad (Track, Take 2) - Anyone (Could Fall In Love With You) (Track, Take 4) - Kissin' Cousins (Track, Take 1) - Tender Feeling (Vocal Only, Take 1 / Master)

---
CD TITLE
THE BICENTENNIAL SHOW (2 CD SET)
LABEL
FTD (BMG)
RELEASE DATE
NOVEMBER 2017
PRICE
$46.95
COMMENTS
FTD is pleased to announce the release of the legendary BICENTENNIAL SHOW. This a 2-CD 5" digipack release.
Please click on the photo for a larger version of the cover.
DISC 1 -JULY 4, 1976 TULSA, OK (2:30 PM)
See See Rider - I Got A Woman / Amen - Love Me - If You Love Me (Let Me Know) - You Gave Me A Mountain - America - All Shook Up - (Let Me Be Your) Teddy Bear / Don't Be Cruel - And I Love You So - Jailhouse Rock - Fever - An American Trilogy - Introductions / Early Mornin' Rain - What'd I Say (Incomplete) - Love Letters - School Days - Hurt - Help Me - Hound Dog - Funny How Time Slips Away - How Great Thou Art - Little Darlin' - Can't Help Falling In Love
DISC 2 - OCTOBER 16, 1976 (DULUTH MN).
See See Rider - I Got A Woman / Amen - Love Me - If You Love Me (Let Me Know) - You Gave Me A Mountain - Jailhouse Rock - All Shook Up - (Let Me Be Your) Teddy Bear / Don't Be Cruel - And I Love You So - Fever - Steamroller Blues - Introductions / Early Mornin' Rain - What'd I Say / Johnny B. Goode - Love Letters - School Days (Incomplete) - Hurt - Hound Dog - It's Now Or Never - How Great Thou Art - Blue Christmas - Can't Help Falling In Love

---
CD TITLE
LAKE TAHOE '74 (2 CD SET)
LABEL
FTD (BMG)
RELEASE DATE
OCTOBER 9, 2017
PRICE
$45.95
COMMENTS
Following on from the recent ("Las Vegas '74" and "Elvis In Atlanta", releases, FTD's "LAKE TAHOE '74" features shows from May 25 and May 26. This a 2-CD 5" digipack release.
Please click on the photo for a larger version of the cover.
DISC 1 - MAY 25, 1974 - DINNER SHOW
I Got A Woman / Amen; Love Me;Trying To Get To You; All Shook Up; Love Me Tender; You Don't Have To Say You Love Me 2:208 Johnny B. Goode; Hound Dog; Fever; Polk Salad Annie; Why Me Lord; Suspicious Minds; I Can't Stop Loving You; Help Me; An American Trilogy; Let Me Be There; I'll Remember You; Big Boss Man; Heartbreak Hotel; Can't Help Falling In Love
BONUS SONGS
Sweet Caroline (March 30, Midnight show); Funny How Time Slips Away (March 30, Midnight show); Fairytale (March 31, Midnight show); Burning Love (March 31, Midnight show)
DISC 2 - MAY 29, 1974, DINNER SHOW
See See Rider; I Got A Woman / Amen; Love Me; Trying To Get To You; All Shook Up; Love Me Tender; You Don't Have To Say You Love Me; Hound; Fever; Polk Salad Annie; Why Me Lord; You Gave Me A Mountain; Suspicious Mind; I Can't Stop Loving You; Help Me Make It Through The Night; Bridge Over Troubled Water; Let Me Be There; Big Boss Man; Can't Help Falling In Love

---
CD TITLE
ELVIS: THE LAST MOVIES
LABEL
FTD (BMG)
RELEASE DATE
OCTOBER 9, 2017
PRICE
$45.95
COMMENTS
(SENSATIONAL COVER BY JIMMY "C" CARPENTER!). FTD is pleased to announce the release of ELVIS: "THE LAST MOVIES." Finally, Elvis' last soundtrack recordings are brought together in a cohesive release that works as a companion set for the FTD 7" Classic Album series. "The Last Movies" contain outtakes and an informative illustrated 16-page booklet with rare memorabilia and photos.
Please click on the photo for a larger picture of the cover.
Change Of Habit; Rubberneckin'; Let's Be Friends; Have A Happy ; Let Us Pray; Clean Up Your Own Back Yard; Almost; Charro; Let's Forget About The Stars; Let's Forget About The Stars (rough mix)* ; Charro (rough mix)*; Clean Up Your Own Back Yard (undubbed master); Almost (undubbed master); Swing Down Sweet Chariot (movie version); Swing Down Sweet Chariot 
 (female vocals and brass overdub); Signs Of The Zodiac (duet with Marlyn Mason); College Songs Medley (3:15) 
 (Far Above Cayuga's Waters* / Boola Boola* / Dartmouth's In Town Again* / The Eyes Of Texas* / On, Wisconsin* / The Whiffenpoof Song / Fair Harvard* / Notre Dame* / Violet); Almost (takes 1-3*); Almost (takes 4* & 6); Almost (takes 10*-11); Almost (take 13*); Almost (takes 14-16*); Almost (takes 22-25*); Almost (takes 27-28*); Almost (take 29*); Let Us Pray (alternate vocal overdub); Let Us Pray (M/vocal only)
---
BOOK / CD TITLE
ROCK AROUND THE BLOCH (BOOK/ 1 CD
AUTHOR
DAVID ENGLISH / PAL GRANLUND
PUBLISHER
FTD BOOKS
COUNTRY
DENMARK
RELEASE DATE
MARCH 2015
PAGES
228
PRICE
$200 (HARDBOUND)
COMMENTS
FTD Books and Flaming Star will release a new book and CD set of the 1961 HAWAII BENEFIT CONCERT LP that I and Sam Theaker put out in the late 1970's. The book is written by David English and I have supplied him with some material for it. As to when it will come out it will be sometime in 2015 probably very soon. As far as what tape they are using that is unknown right now.. A hardback book containing 288 pages which tells the story of the USS Arizona benefit concert that Elvis performed at the Bloch Arena, Honolulu, Hawaii on March 25, 1961. It includes first-hand accounts from people who were there, newspaper articles from the time and numerous photographs (over 130 of which have never been published before). Supporting audio will accompany the book. Also included will be a newly found press conference
Please click on the photo for a larger picture of the cover.
Monolog - Introduction - Heartbreak Hotel - All Shook Up - A Fool Such As I - I Got A Woman - Love Me - Introductions - Such A Night - Reconsider Baby - I Need Your Love Tonight - That's All Right - Don't Be Cruel - One Night - Are You Lonesome Tonight? - It's Now Or Never - Swing Down Sweet Chariot - Hound Dog - Tom Moffatt interviews Colonel Parker and Elvis during the filming of G.I. Blues, June 21, 1960 1960 - Press conference and awards ceremony, complete and unreleased, March 25, 1961 - Tom Moffatt interviews Elvis on the set of Blue Hawaii, April 1961
---
TITLE
THIS IS ELVIS SATIN JACKET
MOVIE
THIS IS ELVIS
CATEGORY
MOVIE MEMORABILIA
COUNTRY
UNITED STATES
PRICE
$250
COMMENTS
In 1981 directors Andrew Solt and Malcolm Leo produced an Elvis documentary called THIS IS ELVIS. It combined archival footage with reenactments, and voice-over narration by pop singer Ral Donner, imitating Presley's speaking voice. Unknown to most Elvis fanatics, they commissioned famous jacket designer Mary Bassel of LP DESIGNS (who worked directly with such clients as The Walt Disney Company, Bill Graham Presents, Ninetendo, and Artist Manager Ken Kragen to design this jacket. She created custom Tour Jackets and accessories for such artists as Bruce Springsteen, Tina Turner, Paul McCartney, Journey, Tom Petty, David Bowie, Michael Jackson, Donna Summer, The J. Geils Band, Kenny Rogers, The Go-Go's and Dire Straits, among many others) but this was the only thing she did on Elvis.

Sometime in 1980 I received a call from Andrew Solt who was doing research for the movie and bought loads of unreleased Elvis video tapes and audio recordings from me. To my surprise, when the movie came out a year later, I received a package from him in the mail with this jacket containing my name "PAUL" on the left hand side of the front! I phoned and thanked him and he told me that he had only made ONE of these jackets with a person's name embroidered on it and that of course was mine. It was extremely nice of him to do this and I have treasured it ever since. I have never ever seen this jacket advertised for sale anywhere!

This extremely rare one-of-a-kind promotional embroidered satin jacket has the logo from the movie on the back and Elvis' "TCB" insignia on the upper right arm. The label inside shows the LP DESIGNS logo, Mary Bassel's name, and the size (LARGE).

It is in incredibly almost perfect (well, I hate to call anything perfect but this really just about is!).

Please click on the photo for more pictures of this jacket.
---
TITLE
ELVIS - DICK CLARK PRODUCTIONS BASEBALL JACKET!
MOVIE
ELVIS 1979
CATEGORY
MOVIE MEMORABILIA
COUNTRY
UNITED STATES
PRICE
$200
COMMENTS
This black satin baseball-style jacket was made in 1979 for the Dick Clark "Elvis" movie starring Kurt Russell. It is machine embroidered on the back in pink and has a light pink script "Elvis," on the right. The front breast is a pink-on-black patch that reads "DC / a 1979 DICK CLARK production." The collar, sleeve edges and bottom are edged in black jersey knit. There are seven black metal front snap closures and two front pockets, and a light black satin lining. The tag reads: "L/Calderon/California." It is in incredibly almost perfect (well, I hate to call anything perfect but this really just about is!). This is SUPER RARE!!

Please click on the photo for more pictures of this jacket.
---
CD TITLE
MEMPHIS RECORDING SERVICE1953-1955! VOLUME ONE
BOOK / DVD / 45 RPM
LABEL
MEMPHIS RECORDING SERVICE
RELEASE DATE
NOW!
PRICE
$100
COMMENTS
This ia an incredible DVD and 100-page book issued by the great Joseph Pirzada with exclusive new information, unseen documents and colour photos covering the humble beginnings of Elvis Presley's music career and its effects on the birth of Rock n' Roll during 1953 -1954. It comes with:
1) DVD- AUDIO / DOLBY DIGITAL DVD DISC
- 11 fully restored tracks from 1953-1954 using never before released original sources of masters, acetates and tapes to produce high quality sound never before heard. A selection of photographs is used to accompany each song..
2) THAT'S ALL RIGHT 45RPM SUN SINGLE REPRODUCTION!! PROCESSED AND PRESSED FOR THE FIRST TIME SINCE 1954 FROM THE ORIGINAL SUN MASTER 'MOTHER STAMPER'!!
-The original Sun 209 45rpm issue of 'That's All Right' was Elvis Presley's first commercial record. It was recorded on JULY 5, 1954 at the Memphis Recording Service and was released later that month.
In 1955 'That's All Right' was re-released by RCA Records with an added echo effect on the vocal track. Subsequent re-issues of this song from 1955 to the present day have all contained that same echo effect, not faithful to the first Sun recording.. If you have never been fortunate to own the original pressing and hear the sound as it was intended, here it is.
Through acquisition of the Sun's master 'Mother' - the part responsible for pressing the first run of records, we can present 'That's All Right' back in its original format with the same same matrix number and three pushmarks. This will give all true Elvis fans an exclusive chance to experience the birth of R+R for themselves.
Please click on the photo for a display of this package.
DVD TRACK LISTING!
"LIVE"
My Happiness; That's When Your Heartaches Begin; That's All Right; Blue Moon of Kentucky; Good Rockin' Tonight; I Don't Care If The Sun Don't Shine
FIRST LOUISIANA HAYRIDE SHOW OCTOBER 16, 1954
Lucky Strike (Scotty and Bill tune up); That's All Right Blue Moon of Kentucky; Milkcow Blues Boogie; . You're A Heartbreaker

---
TITLE
A TOUCH OF GOLD LAME (BOOK)
AUTHOR
ERIK LORENTZEN
PUBLISHER
ERIK LORENTZEN
COUNTRY
NORWAY
RELEASE DATE
SEPTEMBER 2015
PAGES
450 + PAGES!
PRICE
$70 - VERY CHEAP!!
COMMENTS
The book, 'A Touch of Gold Lame' has been released. This is a 450+ page Hardcover book by Erik Lorentzen author of the Elvis Files books. The book is HUGE. Weighs almost 10 pounds and will cover all you could want to know about Elvis and his 1957 concerts featuring the famous Gold Lame Suit.
Please click on the photo for a great display of some of the pages.
---
CD TITLE
DOUBLE FEATURES (4 CD SET)
LABEL
BMG
COUNTRY
UNITED STATES
PRICE
$19.95
COMMENTS
This 4 CD set was issued in January 1993 and it's a real beauty. It comes in a special 12" metal TIN FILM CANISTER and contains four of the DOUBLE FEATURE movie CD's that of course have been deleted for years. Also include: a 20 page booklet filled with great color pics and info from the movies, four 8" x 10" photos, an Elvis pin, and a Certificate of Authenticity.
Please click on the photo for pictures of the CD's and booklet cover.

DISC 1
KID GALAHAD; GIRLS! GIRLS! GIRLS! (includes end title version of GIRLS! GIRLS! GIRLS!)
DISC 2
IT HAPPENED AT THE WORLDS FAIR (containing film and single versions of ONE BROKEN HEART); FUN IN ACAPULCO
DISC 3
VIVA LAS VEGAS ; ROUSTABOUT
DISC 4
HARUM SCARUM
GIRL HAPPY
---
POLAND

CD TITLE
KROL ELVIS I JEGO DWOR HARDBOUND BOOK
LABEL
BMG
COUNTRY
POLAND
RELEASE DATE
2006
PRICE
$19.95
COMMENTS
(NOTE: In English the title means "King Elvis and His Kingdom"). This is a really weird unusual Elvis hardbound book (5 1/2" x 6") with 40 pages plus a special 24 track CD. It was released in April 2006 and I believe was only available via mail order in a Polish newspaper! It contains three Elvis songs. Also songs by THE BEATLES; CARL PERKINS; CHUCK BERRY; BILL HALEY; CARL MANN; DANNY MIRROR; JERRY LEE; LITTLE RICHARD; FATS FOMINO AND OTHERS!! It also comes with an open out 6 page booklet all in Polish that has no pics of Elvis inside. I had never heard of this before!
Please click on the photo for a larger display.
SONGS: SEE SCANS

---
CD TITLE
KING COUNTRY
ARTIST
DOUG CHURCH
LABEL
COUNTRY
UNITED STATES
PRICE
$7.95
COMMENTS
This CD comes in a plain white paper cover - no jewel - CASe or digi pack. The photo to the left is just a mockup
Don't Happen Twice; God Bless The USA; Good Time Charlie's Got the Blues; ; Seven Spanish Angels; Honey Do; Let Me Be In Love; Luckenbach, Texas; Chattahoochie; The Dance; I Like It, I Love It; The Gambler; Sweet Home Alabama 7 Bridges Road; On The Road Again; Ain't Goin' Down; The Thunder Rolls;
---
VINYL TITLE
A TOUCH OF MARBLE PICTURE COVERS
FORMAT
7" 45 RPM single
RELEASE DATE
QUANTITY
PICTURE COVER ONLY: AROUND 1100
COUNTRY
UNITED STATES
PRICE
$300 FOR THEM ALL. IN FACT I MAY HAVE MORE THAN 1100 BUT I'M NOT ABOUT TO COUNT THEM!
COMMENTS
This special picture cover was made by RCA for me (WORLDWIDE ELVIS) many years ago. The only problem is that to make the cost economical I had to do 5000 so I must have 3000 + left. They make great sleeves for records that never had any.
Please click on the photo for a larger version of the front and back cover.
---